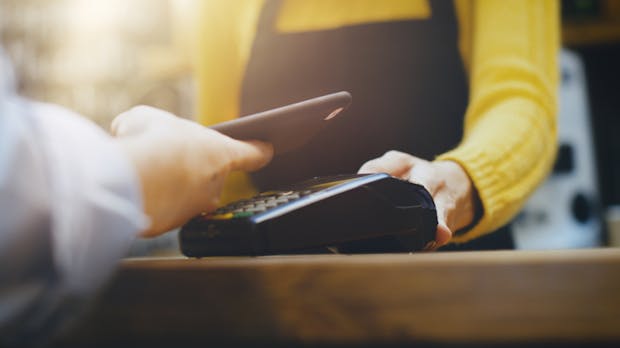 In Germany, according to a new consumer study, there are particularly great reservations about paying by mobile phone. According to the survey of 2,500 residents of ten European countries only end of last year, only five percent of German consumers use their smartphone to pay, write the financial experts of the consulting firm PWC Strategy in the study published in Munich on Tuesday. That was the lowest value. At the top were the Swedes, of which at least a third had already used the phone to pay.
Most German consumers see no reason to pay with their smartphone
In addition, among German consumers, 58 percent of respondents saw no reason that could make their mobile payments palatable in the future. The proportion of skeptics was thus higher than that of any other participating country.
A key concern of consumers, according to the study, is the transfer of personal data to financial service providers associated with mobile payment. In addition, PWC also surveyed nearly 60 financial industry executives – who greatly overestimated the willingness of European consumers to disclose personal information.
According to the statistics of the Bundesbank, the number of electronic payment transactions in Germany is increasing year after year, but the aversion to the transfer of personal data to financial service providers is large according to the PWC study, and not only in Germany.
Google, Apple and 
Amazon
 are more distrustful than banks
Three-quarters of French respondents and more than two-thirds of Germans said they would not share their data with anyone, even if they were rewarded with financial incentives or additional services. IT corporations like Google, Apple and Amazon are therefore even more distrustful than banks: Even in mobile-enthusiastic Sweden, only eight percent said they wanted to provide personal information to the IT giant.
Aside from the reluctance of citizens, the spread of mobile payment in Europe also faces other obstacles, as the study authors write. A pan-European payment system is currently lacking – there are currently 15 national electronic payment systems and an even larger number of online and mobile payment services, which are also predominantly country-specific.
The business consultants argue for a quick departure from cash. They argue that electronic payment is more convenient for consumers and allows better control over their own financial condition. "German consumers are not yet recognizing the practical added value of the new data sovereignty offered by Open Banking," explained study author Andreas Pratz. dpa
t3n says: 
 In everyday life, the status quo now feels different. Even in small villages, the use of Google Pay and Apple Pay at the coffers has become the norm. Cashiers not only know what's happening, but can even call it by name. For companies, this survey is not a reliable indicator, more important is the assessment of their own target group. In general, rather use the opportunity and terminals and other payment infrastructure update: New hardware and faster network connectivity of the terminals shorten as well as the mobile payment introduction cash flow times – and thus save money.
Jochen G. Fuchs
Source: https://t3n.de/news/studie-deutsche-wollen-handy-1208303/?utm_source=Venture+Daily&utm_campaign=573c92839a-EMAIL_CAMPAIGN_2019_10_15_01_05&utm_medium=email&utm_term=0_6a5d9fa724-573c92839a-138429649&mc_cid=573c92839a&mc_eid=f7b23d2e00
Please follow and like us: