Consumer apps and insurtechs have dominated fintech investment in recent months
Europe's fintech startups have continued raising vast amounts of capital over the lockdown period, attracting around €2.86bn ($3.4bn) in investment between March and mid-August, according to Dealroom data.
Despite a brief funding blip in March, the second quarter of 2020 saw fintechs rake in €1.7bn; only slightly down on the €2bn raised in the first quarter.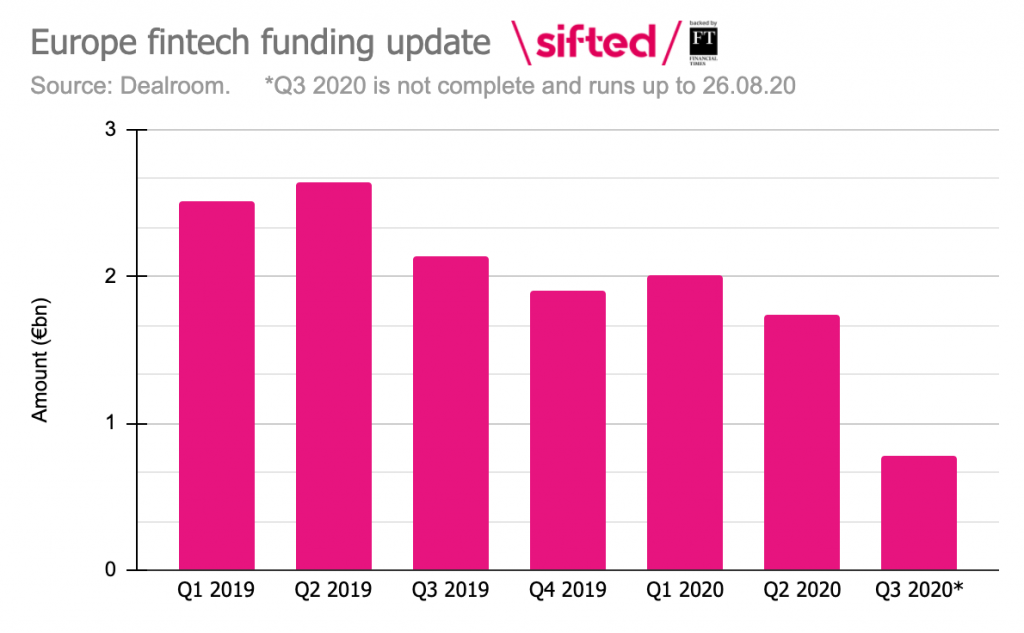 It's not yet clear how badly fintechs' valuations have been affected in recent months, but according to PitchBook, investors in Europe seem confident that long-term macro trends (including accelerated digital adoption) will "broadly favour" the sector.
Still, not all sub-sectors within fintech have attracted the same level of investor backing.
The analysis below breaks down the monthly funding data by sub-sector, including payments, banking, wealthtech, lending and insurtech, to understand how each area of fintech has performed with venture capitalists* in recent months.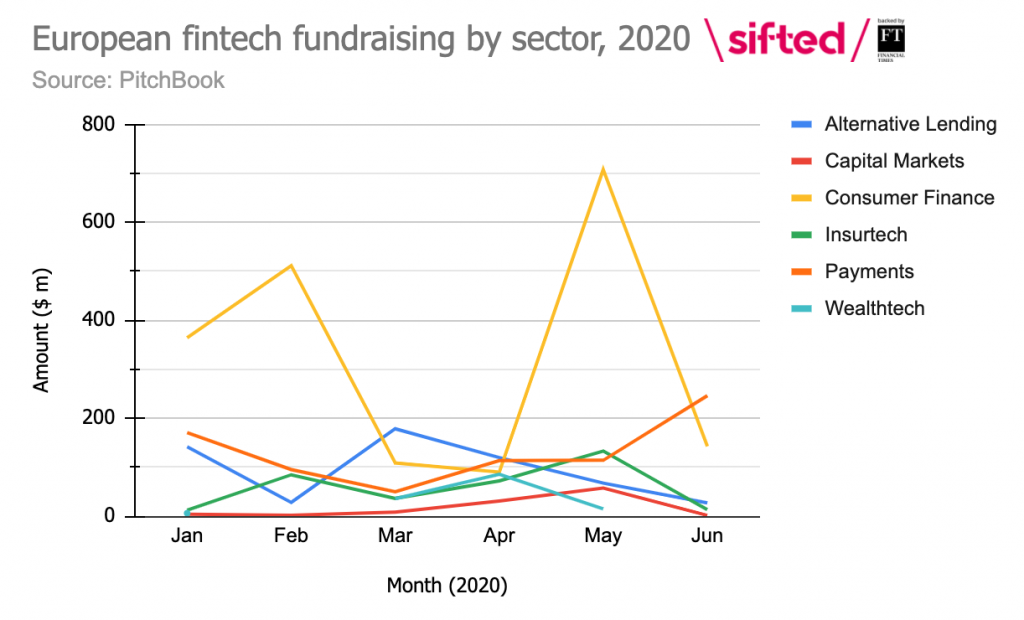 * PitchBook's data focuses only on VC-backed fintechs.
Key takeaways
Consumer fintechs are carrying the sector in terms of funds raised. This segment actually had a record quarter in Q2 thanks to a number of mega-rounds (see full list at the bottom of this article). The funding boom here may well be because these companies are still heavily loss-making, meaning they were most in need of additional funds. However, PitchBook analysts are particularly bullish on this sub-sector, expecting the market to grow incrementally thanks to increased digital adoption. There have also been some healthy exits, including Cardiff-based Anna Money and France's Shine in recent months.
Alternative (or non-bank) lending firms like Zopa saw one of the biggest drops in funding over lockdown. Europe's alternative lenders raised $62m in the first half of 2020, down from $100m in the first half of 2019, according to PitchBook.
Wealthtech saw a record year for global investment in 2019, buoyed by the US' Robinhood. Yet the start of 2020 saw a 45% funding drop in Europe. Despite users flocking to trading apps, PitchBook analysts predict that investors "are still sorting out the impact of a downturn" on these companies.
The payments sector is on track to exceed last year's record investment. It's also worth noting that this area is proving particularly popular with incumbents and their venture arms, including Mastercard's recent investment in invoice-firm Previse.
European infrastructure providers (focused on capital markets) are still lagging in investment. But if the US is anything to go on, it's a sub-sector that should attract growing attention. Notably, America's Carta raised a chunky $210m Series F round in June.


PitchBook predicts consumer finance apps to have 140m users by 2024 across North America and Europe.
Insurtechs' golden moment?
One sub-sector worth keeping an eye on is insurtech.
Despite not receiving much mainstream attention, data shows that insurtechs made up nearly 20% of all fintech rounds in Europe in Q1 2020 — not bad for a nascent space.
While that figure dropped to 14% in Q2, the insurtech market is still predicted to be worth over $1.6 trillion by 2024. Meanwhile, top fintech fund Anthemis say they expect funding in the sector to pick up again in the mid-term as insurtechs leverage their digital infrastructure and outpace older, analogue players.
Still, it's worth remembering it will take time for insurtechs to make a serious dent in the market, says Christian Wiens; chief executive of consumer insurtech Getsafe.
"The traditional big players will not go bankrupt overnight; and it will take time for insurtech to gain significant market share. The largest global insurance companies each have annual revenues well over $100bn, more than twice Facebook's 2018 revenues, and it will be years before insurtechs are anywhere near that level," Wiens told Sifted.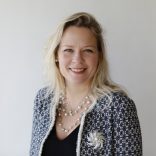 18 fintechs that investors think will thrive post-lockdown
Europe's fintech sector has been hit by the pandemic, but there are still several companies that (impartial) investors are excited by.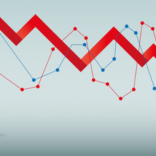 Fintech in coronatimes: Why some sub-sectors are especially vulnerable in a downturn
A sector-by-sector analysis of what might happen to European fintechs during a downturn. Which are most at risk and which might profit?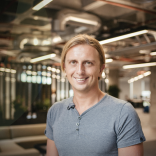 Digital bank signups dive in lockdown
2020 is poised to hit retail banking apps across Europe, data shows.
Funding winners and losers
It's worth remembering that the $3.4bn raised in recent months has been heavily concentrated in a series of mega-deals — including N26's $570m round in May.
Below is a summary of the biggest funding rounds that took place in the midst of the pandemic.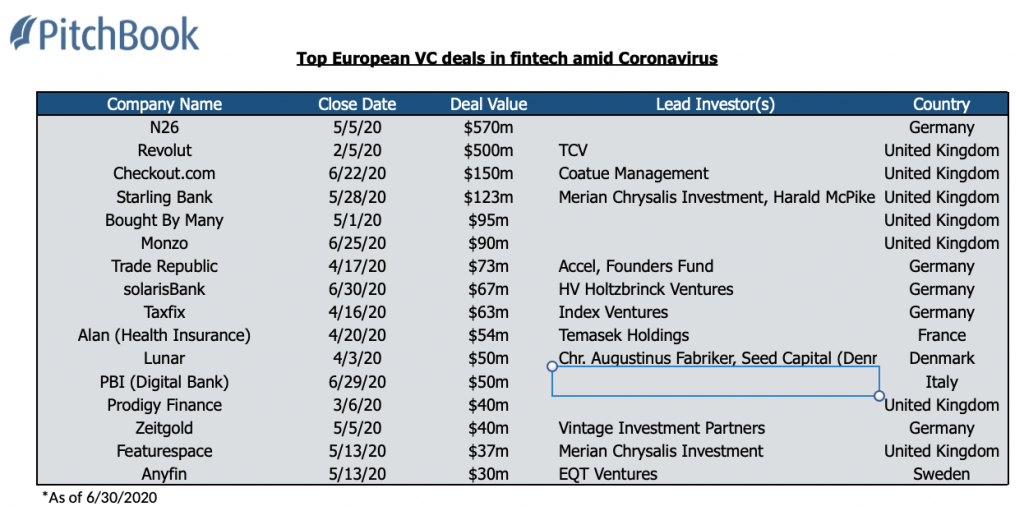 Overall, that means that late-stage companies secured over 75% of the capital raised since lockdown began.
Meanwhile, the number of early-stage and angel stage deals has been bumpy since February. That could be a warning sign that several smaller fintechs are on the brink of running out of money, despite some assistance from government schemes like the UK's, which has backed at least a dozen finance-focused startups.

Overall, the number of fintech deals in Europe between April and June stood at 148 deals; down from the 169 across January and March.
**
Isabel Woodford is Sifted's fintech correspondent. She tweets from @i_woodford
Credit: https://sifted.eu/articles/european-fintech-funding-2020/
Please follow and like us: