You'd imagine that when a founder hears that SoftBank has just backed one of their competitors, they might not feel super chirpy.
You'd also think that their VCs wouldn't be entirely chuffed, either.
Yet the news that SoftBank has led a $250m investment round into scooter operator Tier has been met with interminable optimism.
"We welcome Tier's announcement, which is a validation of the importance of micromobility," said Fredrik Hjelm, cofounder and CEO of Tier's Swedish competitor Voi.
"Overall, it is a positive signal for the micromobility industry, especially during Covid lockdowns. Investors believe in the market potential," said Henri Moissinac, cofounder and CEO at Amsterdam-based scooter operator Dott.
But is it, really, such a good sign?
SoftBank's track record
SoftBank, the Japanese investment firm with a penchant for writing ginormous cheques into startups far from profitability and helping them conquer a market through sheer force of capital, has had a rocky year. Some of its best-known investments — like coworking company WeWork and hotel group Oyo — were struggling before the pandemic and have now been hit even harder.
Where once upon a time, landing SoftBank investment was a mark of prestige, now some might say it should come with a health warning: is growth at all costs perhaps a bit, costly?
"I don't think the immediate response is so negative," says Ophelia Brown, partner at VC firm Blossom. "For sure, they've had some losses, but they've also had some good outcomes recently (Bytedance, DoorDash, Guardant Health, Slack, Arm) so I don't think the investor community necessarily ridicules them so quickly and I would think almost welcomes their experience with some exceptional management teams."
It's also worth noting that while Tier has raised $250m, its valuation is still hovering just below $1bn. (Compare that to online events company Hopin, which this week raised $125m at a $2.1bn+ valuation.) That's a big round at a relatively low valuation, which could mean a few things: there might have been quite a bit of secondary investment (where earlier investors sold their shares), the founders might have had their shares diluted a fair bit and/or Tier needed to boost its cashflow.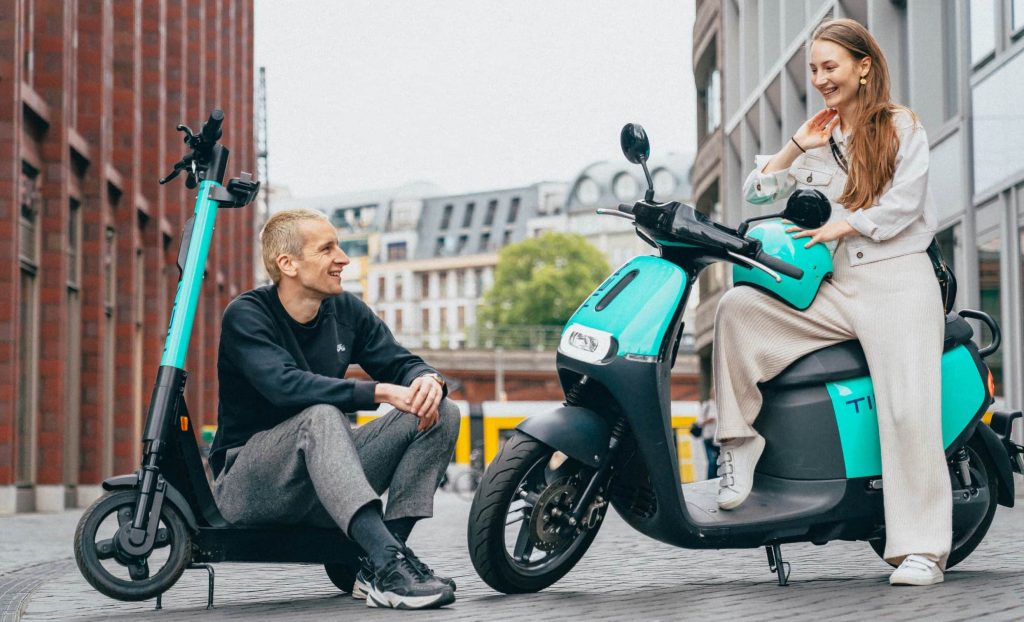 The capital will be used to expand into new kinds of micromobility. Tier is keeping quiet about what forms, exactly, but mopeds are a likely contender; earlier this year Tier acquired 5,000 mopeds from now-defunct mobility startup Coup and started offering them to users in Berlin in May.
SoftBank's cash will also help build out Tier's charging network. Earlier this year Tier acquired Pushme, a UK startup which had designed an in-store battery charging cabinet; it now plans to roll these out in convenience shops and cafes across Europe and give customers a free ride for dropping off batteries which need a boost.
With battery charging networks, as with scooter operations, it helps to dominate a market — the kind of strategy SoftBank (backer of Uber) likes.
There will be no winner
But Tier's competitors insist this isn't a winner-takes-all market anyway. Micromobility isn't ride-hailing.
"Did this create a winner? No. This is an industry of meticulous execution, not just capital and fundraising."
"Did this create a winner? No. This is an industry of meticulous execution, not just capital and fundraising. All the money in the world did not help Bird, Lime and Jump," says Dott's Moissinac.
"This is also not a "winner takes it all" market. Each city will have two or three healthy providers," he adds. Dott is one of the three licensed scooter operators in Paris, along with Tier and US company Lime.
Transport market analysts at the Lufthansa Innovation Hub aren't so sure: "The e-scooter market appears to be a classic winner-takes-all environment. At the end, we expect a handful of global players to survive and potentially establish commercially viable business models. Acquisitions will most likely expand beyond modes of transportation as we have seen with Tier taking over electric-mopeds provider Coup in Germany."
As much as Tier's competitors might say that money isn't everything, the Lufthansa Innovation Hub team insist that it kind of is — at least in the short term.
"Capital is needed in order to expand to more markets, double down on user acquisition and differentiate hardware. Winning strategy over the next 12-24 months is all about: being the acquirer, not the acquisition target."
In the medium- to long-term, several factors will help some operators pull ahead of the pack, they add:
Building relationships with regulators and local authorities (more on Tier and Voi's strategy on that front here)
Focusing on sustainability, "as users (and regulators) will increasingly punish those what do not offer more carbon-friendly operations"
Doubling down on innovation — in hardware, batteries, safety features
Multimodality is go (sort of)
Tier is not alone in wanting to expand into new forms of micromobility.
Dott has been working on an e-bike for two years — and is hoping to launch it in 2021. The model has been designed in-house and will be produced and assembled in Europe.
Voi is also dabbling in e-bikes — it will provide them alongside scooters as part of its trial in Cambridge and Peterborough in the UK — but says this is more motivated by the needs of local authorities.
And then there's Bolt, the Estonian ride-hailing unicorn which also launched scooters in 2018 — and now offers them in 45 cities in Europe. It also has an e-bike service, with operations live in Barcelona, Lisbon, Prague and Bordeaux.
Not everyone is convinced that multimodality is the way to go, however.
"Other forms of shared micromobility (bikes, mopeds, cars) aren't really proven at scale yet."
"Other forms of shared micromobility (bikes, mopeds, cars) aren't really proven at scale yet since the ratio between CAPEX and willingness to pay is difficult to get right (e-bikes, mopeds and other vehicles are significantly more expensive than scooters and willingness to pay is the same/lower)," says Sam Cash, investor at VC firm Project A (one of Voi's backers).
"Tier's announcement to expand into other forms of mobility is essentially the same bet Uber and others have long proclaimed, namely: building a one-stop shop for all forms of on-demand mobility, whether in the form of scooters, bikes, mopeds or others," says the Lufthansa Innovation Hub team. "The big question remains whether any startup will be able to find a sustainable business model that's actually making money. Right now, much is still a vague vision that has not been validated yet."
Money in, money out
Tier has, founder and CEO Lawrence Leuschner told the FT, been profitable (excluding interest and tax payments) since the summer.
But so has Voi — claiming profitability "at the group level" since June. Wind, meanwhile, says it "is profitable in most of its markets".
Dott, meanwhile, is positioning itself as the best as the most capital efficient operator. "We have achieved the same type of results for a fraction of the capital raised and spent by others," says Moissinac.
"Our disciplined growth strategy does not require the same level of fundraising. We're EBIT profitable (not just EBITDA) in almost all our cities where we operate. We have asset backed-financing for our future fleet, something Tier says they are just starting. We will be raising more funds for specific strategic initiatives but in no rush to do so."
Voi, meanwhile, is fundraising — and says it is in the "final stages of a new funding round".
Markets
Earlier this year, the UK finally opened up to scooters — and the operators have flocked to win tenders with local authorities.
Voi says it currently has 80% of the UK market.
Voi says it currently has 80% of the UK market, with exclusive trials in six cities (Birmingham, Northampton, Liverpool, Cambridge, Bath and Bristol) underway.
Wind is running exclusive trials in two UK cities (Nottingham and Derby), while Lime is operating scooters in Milton Keynes and Salford (exclusively). Tier is currently running a scooter trial in just one UK city, York.
Dott is yet to launch operations in any UK cities — although it will be announcing its first UK tender soon, it says.
Launching in markets early is a smart strategic move, says the Lufthansa Innovation Hub team — and in the UK, Voi is gaining a lead.
"We have seen that those players who tend to enter new markets sooner than others have a better chance of survival and penetration. No one wants to have multiple scooter apps on their phones. Those that make it into people's smartphones first, have a higher chance of becoming the go-to-scooter provider."
Please follow and like us: