The Covid-19 pandemic has resulted in a 12% decline in VC investment compared with 2019, a less severe impact than many had feared.
But there has been a big difference in the fortunes of different cities.  Some, like Zurich and Helsinki, thrived despite the pandemic, with investment levels up significantly from last year, while cities like Madrid and Barcelona have seen a steep drop.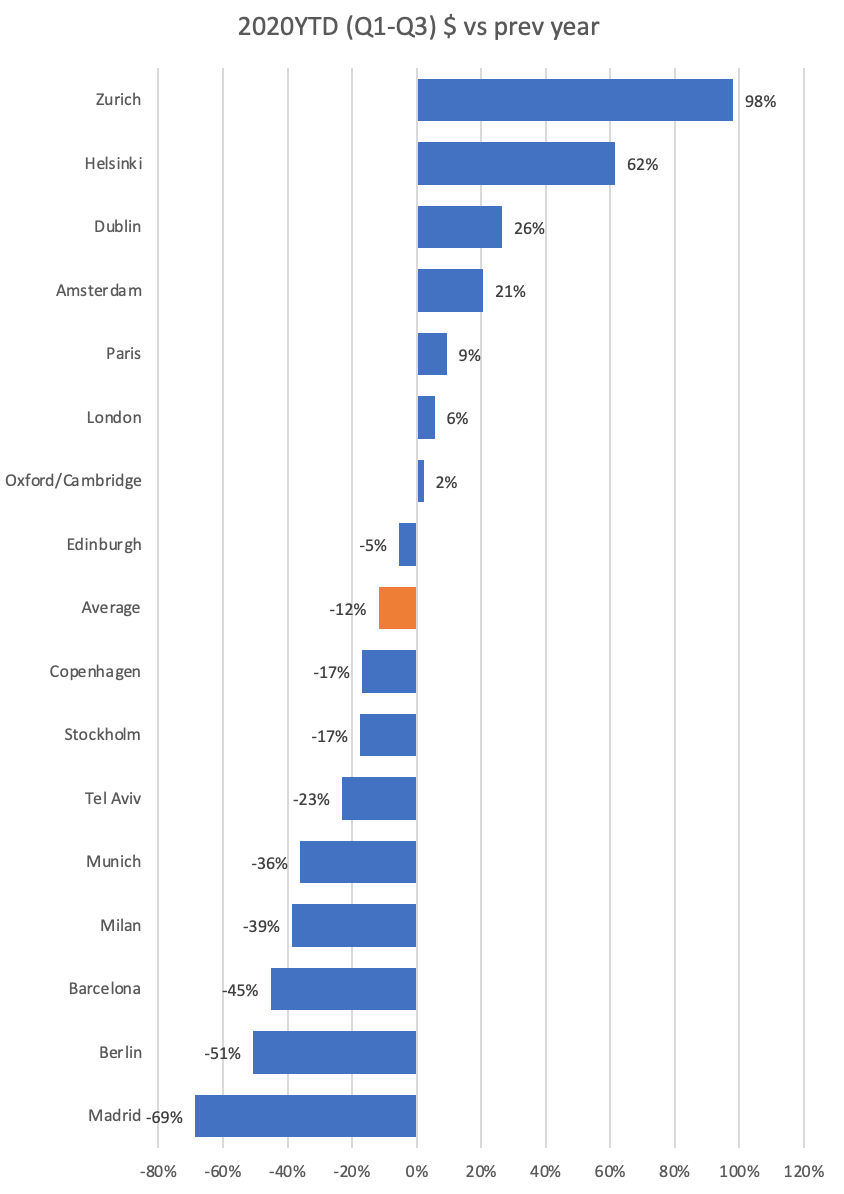 To some extent, the VC investment numbers mirror the pandemic. The areas hardest hit by Covid-19, such as Madrid and Milan, have seen bigger drops than places like Helsinki, which have so far escaped fairly lightly.
What is going on in Germany?
The big anomalies are Berlin and Munich, both of which have seen big falls in investment levels, despite Germany handling the pandemic well and seeing a smaller percentage of deaths than other countries.
"Maybe the Germans are just more conservative and more prudent in reigning back spending," says Bo Ilsoe, partner at NGP Capital, which compiled the investment numbers using its "Q" platform that scans companies and deals around the world every week. "German automakers, of course, have been hit hard by the pandemic and really reigned in their spending so this may be affecting the numbers."
Investment in Berlin has been declining for some time, as the chart below, showing the rise and fall of VC funding in different cities shows. The city saw a high point in 2017 and 2018, when big round such as the €431m raised by Delivery Hero and the €460m Softbank funding for used car dealer, Auto1 Group, for example, boosted Berlin's numbers.
However, the city has been subsequently overtaken by London and Stockholm. (You can read the account of one Berlin founder that sheds more light in why).
The moving chart below shows the rise and fall clearly:
Compared to the big rises and falls in overall venture capital spending shown by the chart, the 12% fall in overall funding in Europe is not dramatic. Late 2019 had already seen something of a slowdown in investment in Europe and that accelerated in the first half of 2020 as the pandemic hit. The second quarter, which is normally the strongest three-month period each year for deals, was down noticeably from previous years.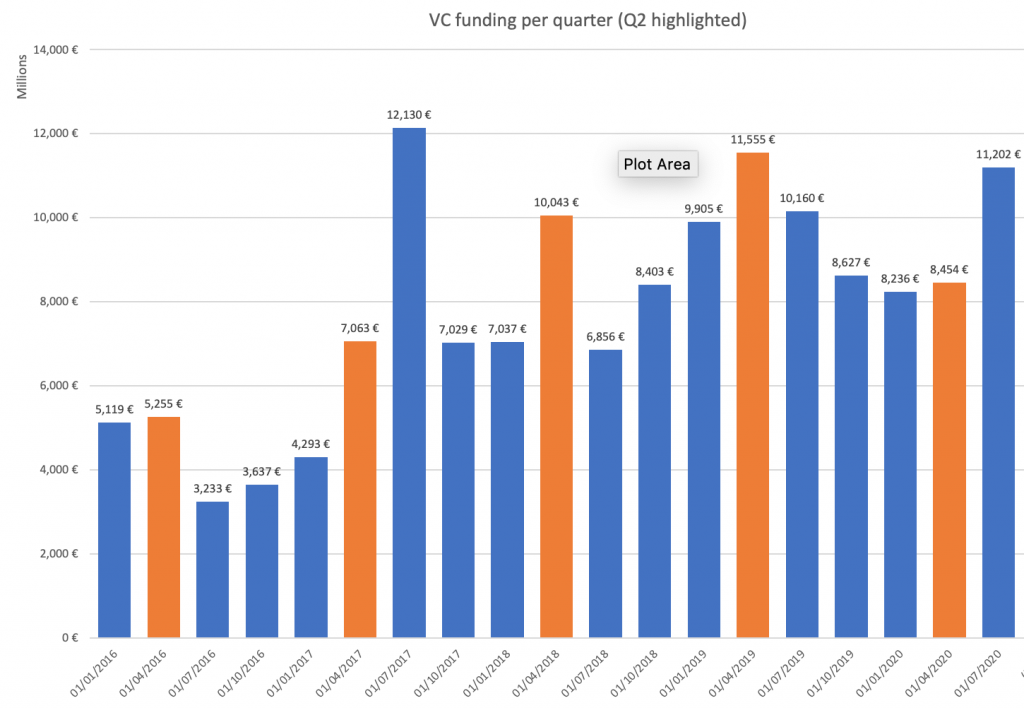 Most cities — apart from Zurich, Munich, Oxford and Cambridge — saw a decline in the second quarter. (Munich and Zurich increases are not shown fully on this chart as they are off the scale, at more than 300%).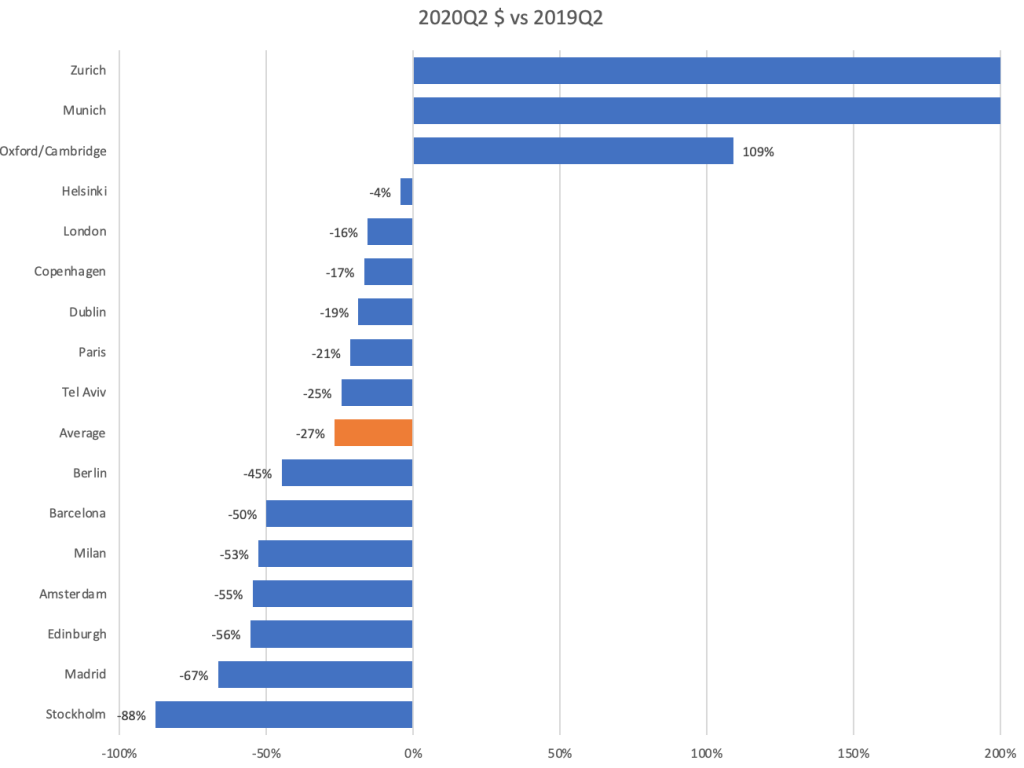 But Q3 appears to have seen a rebound. Normally the third quarter is a quieter period because of summer holidays, but this year it appears that some of the deals that may have been shelved in the second quarter re-emerged in Q3. Stockholm, for example, saw big funding rounds raised by Klarna ($650m) and Northvolt ($600m), while in Helsinki Nokia mobile phone maker HMD Global raised $230m in August.
French startups have benefited from a €4bn government support package set up to help those in the industry affected by the pandemic, and scaleups like Mirakl and October raised big rounds.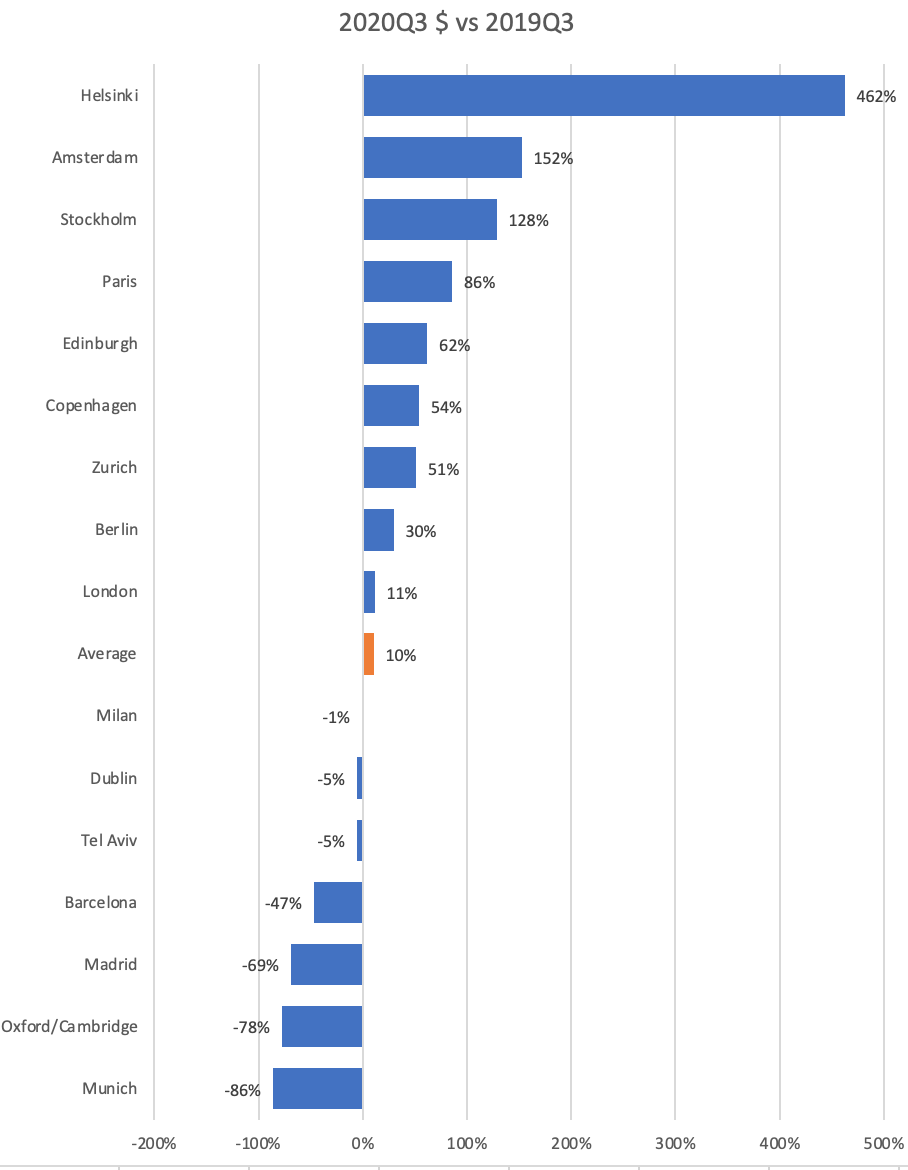 "This year, it looks like the peak moved forward by a quarter," says NGP's Ilsoe. "In Q2 everyone was trying to figure out what was happening with their portfolio but then people started learning how to deal with the situation. Funds have long-term capital commitments and this money does need to be deployed."
Of course, the numbers in smaller startup hubs can be skewed by just one or two outsized deals. The Oxford/Cambridge numbers in 2019 were boosted by big funding rounds for Benevolent.ai and Healx, and look smaller this year in comparison.
But even when you look at the four biggest hubs, there is a big difference between the fortunes of Paris and London, compared with Tel Aviv and Berlin.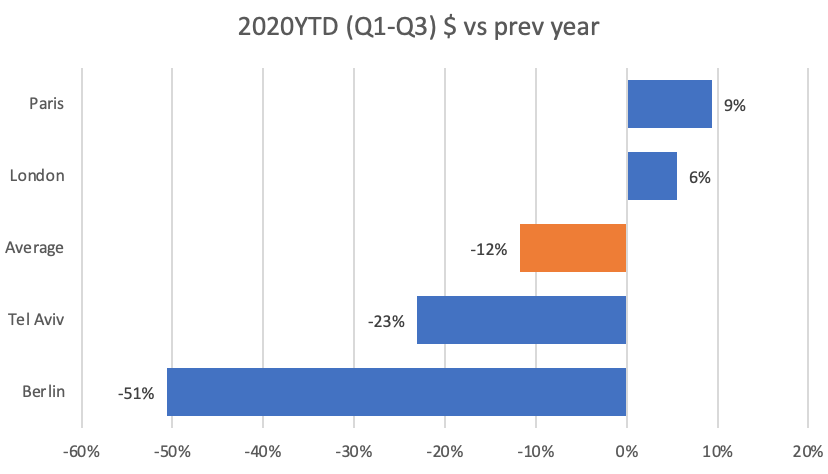 The big question, of course, is what happens next.
If normal investing patterns continue in Q4, the year will end up only slightly down on 2019. Ilsoe says investors are mostly learning to work around the restrictions of the pandemic and there is a desire to make sure that the capital committed to funds is deployed.
"Travel restrictions have made it more difficult to do cross-border deals, but to some extent people have been investing more locally," he says.
"The big question is whether we will become comfortable investing in companies without meeting people in person. If you are putting $10m into a company you want to know the founders. What we invest in is still 50-75% down to the team, and we really need to understand the chemistry between the founders. But if the pandemic continues we will have to get comfortable with remote investment."
Source: https://sifted.eu/articles/vc-investment-europe-falls/?utm_source=siFTed&utm_campaign=c1486474ac-EMAIL_CAMPAIGN_2020_10_15_10_06&utm_medium=email&utm_term=0_3d44334990-c1486474ac-378339070
Please follow and like us: